Paul Plishka – bass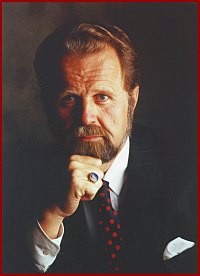 The great basso of the MET and one of the world's foremost singers – Paul Plishka – has decided to retire from the great MET stage after his performance as the Sacristan in Tosca in 2012. He remains a vital resource and compelling authority in select opera Master Classes and Special Projects.
In an emotional affair, a special onstage presentation was made to him during the Act 1 intermission to celebrate one of the truly memorable and extraordinary careers at that opera house. General Manager Peter Gelb, and a stage full to capacity, offered the bass a great send off along with a stage prop from one of his greatest roles, Czar Boris in Boris Godunov.
By the MET's count, he has sung 1,637 performances (including tours and special events) in 88 roles with that house, including 12 opening nights.
These performances alone are more in number than any other singer of lead roles in the history of that opera house. And we've not begun to mention the host of other opera houses where he's appeared.
Plishka hails from Pennsylvania and New Jersey, made his MET debut in 1967 as the Monk in La Gioconda, and since then, has been a mainstay of that great house.
He was the Colline in La Boheme in the first ever 'Live From The Met' on PBS with Luciano Pavarotti and Renata Scotto in 1977; portrayed and recorded the title role in Falstaff with Mirella Freni for his 25th Anniversary with James Levine conducting.
Paul Plishka's artistry was recognized when he received the Pennsylvania Governor's Award for Excellence in the Arts and when, several years earlier, he was inducted into the Hall of Fame for Great American Opera Singers in a celebration at the Academy of Vocal Arts in Philadelphia.
This beloved of all singers is thought of as a great colleague and artist — is considered one of the truly great Verdi bassos of our time, honored and revered in Don Carlo, Ernani, Simon Boccanegra, Nabucco, Aida, I Vespri Siciliani, Luisa Miller, and La Forza Del Destino. As a singer of Ukrainian decent, he is very proud to have portrayed the title role in Boris Godunov at the MET, the Bolshoi and other important theaters.
The sheer number of recordings and videos is simply too overwhelming to mention in detail, with important bass roles represented on EMI, ABC, Columbia, Erato, Decca, RCA and Vox Records. His recording of the Verdi Requiem with the Atlanta Symphony and Robert Shaw won him a Grammy Award.
He's partnered every important soprano, mezzo, tenor and baritone in the world — with many now retired and some departed, including Luciano Pavarotti, Placido Domingo, Joan Sutherland, Renata Tebaldi, Dolora Zajick, Sherrill Milnes, Cornell MacNeil, Jerome Hines, and a list that reads like the VIP's of opera.
CAREER HIGHLIGHTS He has appeared regularly with major opera companies in such North American cities as San Francisco, Chicago, Philadelphia, Seattle, Baltimore, Houston, Pittsburgh, Dallas, San Diego, Toronto, Montreal, and Vancouver. In Europe, he has performed at Covent Garden and La Scala and in Geneva, Munich, Hamburg, Barcelona, Vienna, Berlin, Zurich, Paris, Lyon, and Marseille. Concert appearances include engagements with leading orchestras in New York, Houston, Toronto, Minnesota, and Boston.