Sharon Azrieli – soprano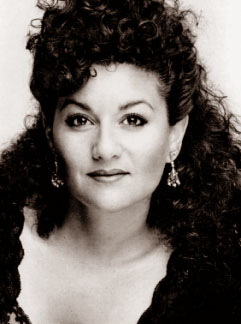 Passionate and exciting; Canadian Soprano Sharon Azrieli Perez has been hailed as a "mistress of merry inflection and piquant words" by Andrew Porter of the New Yorker Magazine. She has performed on leading opera and concert stages throughout Europe, North America and Asia under the direction of such notable conductors as Yves Abel, Marco Armiliato, Maurizio Benini, Boris Brott, Jacques de la Cote, Jean-Francois Rivest, and the late Richard Bradshaw.
In 2012, the role of Leonora in Il Trovatore will be Sharon's second engagement with New Jersey Verismo Opera, and her debut in that role. NJAVO welcomes Sharon back after her triumphant portrayal of Aida last year under the direction of Evelyn LaQuaif and Anthony Morss. On August 16th, Sharon will sing the Soprano part in the Verdi Requiem at the prestigious Ocean Grove Concert Series with the New Jersey State Opera under the baton of Jason Tramm.
In 2011, Sharon performed for the third time with the One World Symphony in New York, singing extracts as the other Leonora, from Verdi's La Forza del Destino. Her previous concerts with OWS were French Art Songs, and the role of Madame Lidoine in Dialogues des Carmelites of Poulenc in 2010. Other concerts with orchestra last year included the Musicians of the World Symphony and the Festivale Sefarade in Montreal as well as two concerts with the Israel Chamber Orchestra, where Sharon sang Mozart's Concert Aria K505. In March 2011 Sharon sang a concert for over 2000 with renowned counter tenor David Da'or.
Sharon's 2010-2011 season included four concerts for the prestigious Orford Music Festival in Quebec, a special concert of "Forbidden Music" for the Brott Music Festival in Hamilton, Ontario, a sold out concert honouring Zipora Gisser of Montreal and another concert with the critically acclaimed Israel Chamber Orchestra for the world premiere performances of works by living Israeli composers Ofer Ben-Amots and Tzvi Avni.
A consummate concert and recital artist, Sharon has performed on stages in Europe, North America and Asia. She has performed with the Haifa and Jerusalem Symphonies, the Tokyo Symphony, the McGill chamber Orchestra as well as with many other orchestras. Highlights of her Oratorio concerts have been the Dvorak Stabat Mater with the Orchestre de L'Université de Montréal, under the direction of Jean-Francois Rivest, and the Verdi Requiem with the New West Symphony under the baton of Boris Brott. This past Spring Sharon sang her first Mahler 2nd Symphony with the Orchestre de l'Isle under the direction of Cristian Gort.
In 2008 Sharon sang Liu (Turandot) with the New Israel Opera, and in 2009 the Mahler 8th Symphony with the National Orchestra of Canada. In 2010 Sharon sang Mozart's extraordinary and rarely performed K.505 Ch'io mi scordi di te and Knoxville Summer of 1915 by Samuel Barber with a 24 piece orchestra under the direction of Shalom Bard.
Constantly in demand to sing for her community and various fund raisers across Canada, Sharon has added many song cycles by Berlioz, Du Parc, among others and has discovered and added the genre 'Ladino music' to her repertoire.

Sharon began her career at the Canadian Opera Company as Juliette in Romeo and Juliette in 1992 and sang Mimi in La Boheme, as well, with the young artists program. She went on to sing Susanna in Le Nozze di Figaro with the Sarasota Opera where she was acclaimed by Florence Fisher of the Sarasota Herald-Tribune as "wily yet candid, flirtatious, practical and utterly charming. And her bell-like soprano is always exquisitely in tune". She also garnered rave reviews as Laurette in Le Docteur Miracle with L'Opéra Français de New York, and Nedda in Il Pagliacci with the summer New York Opera Festival.

After the birth of her two sons, Sharon retired briefly from the operatic stage and worked full time as a Cantor in New York and Montreal. In 2005 She returned to her first love, the great operas of Verdi, under the tutelage of Bill Schuman in New York and Rosemarie Landry in Montreal. She continues to study with these wonderful teachers and is looking forward to interpreting roles which are now much more demanding vocally, and deeper in terms of the psychological understanding and expression they require.