Kristian Benedikt – tenor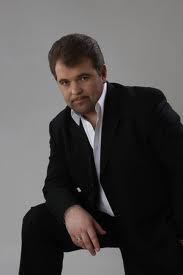 As his career expands to the international level, Otello is the calling card in the 2016/17 season for Kristian Benedikt in The Netherlands, Modena, Valencia, Cagliari, Jekaterinburg, Brisbane, Munich and Arena di Verona – while the reviews continue to be outstanding.
"…And of course the total effect is powered by the voice of tenor Kristian Benedikt, beautiful color dark and powerful ring, which has extensive guarantees of temperament and zeal."
Il Corriere della sera
"Kristian Benedikt was extraordinarily good, scenic totally convincing. He did not play Otello, he was Otello. He is musical to the fingertips, and he has the dramatic ability and expression that made this Otello just maybe the most credible that I have experienced. He has a beautiful timbre in his voice, which at certain times actually reminded me of several of the major Italian tenors in this subject."  Kulturkompasset
Kristian Benedikt made his debut as an opera soloist at the Lithuanian National Opera in 1994. There he sang 20 roles including Cassio in Otello, Barinkay in Gypsy Baron, Alfredo in La Traviata, Kastytis in Jurate ir Kastytis, Lensky in Eugene Onegin,  Tito in La Clemenza di Tito – while also singing at the Kaunas Music Theatre and the St. Petersburgh Opera.
In 2002, he stepped into the studio for the first time at the Munich Rundfunk Orchestra, where he recorded the role of Isepo in Ponchielli's La Gioconda with Placido Domingo and Violeta Urmana, under the baton of Maestro Viotti.
In 2004 his international breakthrough came at Netherlands Opera (DNO) with Rolando Villazon, and under the baton of Riccardo Chailly in Verdi's Don Carlos. Following this was his debut at the Mariinsky Theatre as Don José in Carmen, and Canio in Pagliacci in 2006 at the Estonian National Opera.
From 2007 to 2009 he has been a regular guest with most of the Opera houses in the Baltic countries and Finland in roles such as Hoffmann in Les Contes d'Hoffmann, Cavaradossi in Tosca, Des Grieux in Manon Lescaut, Pinkerton in Madama Butterfly, The Duke in Rigoletto, Manrico in Il Trovatore, and Alfredo in La Traviata.
Mr. Benedikt's 2009/10 season includes debuts in four roles as Andrea Chenier, Des Grieux ( Massenet's Manon), Corrado (Ponchielli's I Lituani), Pinkerton (Puccini's Madame Butterfly).
In 2010/11, tenor Benedikt sang the role of Eleazar in La Juive,  the title role in Otello,  Turiddu in Cavalleria Rusticana, and as Calaf in Turandot with the Danish Royal Opera.
In 2011/12  performances as Des Grieux in Manon Lescaut, Siegmund in Die Walkure, and Werther are also scheduled in his native Vilnius.
Kristian Benedikt has sung under the baton of several famous conductors including M. Viotti, R. Chailly, P. Domingo.
Recordings
Ponchielli "La Gioconda", cond. M.Viotti ( Placido Domingo, Violeta Urmana etc.) (CD)
Verdi "Don Carlos", R.Chailly (Rolando Villazon, R.Lloyd, A.Roocroft, D.Croft, etc.) (DVD)