Diego Baner – bass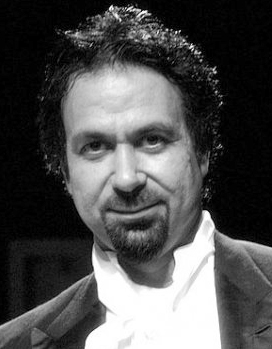 Born in Buenos Aires, Diego began his musical studies with renowned voice teachers from the Teatro Colón of Buenos Aires. At the young age of 22 years old, he received a special award in recognition of Opera Philadelphia by Luciano Pavarotti, during the third international voice competition. Gifted with a powerful and deep bass voice (basso profondo), Diego won the IBLA grand prize international competition ("Distinguished Musician") at Ragusa, Italy. Placido Domingo once during an audition referred to Diego's voice as the sound of great basses from the past.
Professionally, Diego sang during 3 seasons with the Palm Beach Opera under the General direction of Maestro Anton Guadagno, singing Lodovico in Otello, Sarastro in Magic Flute, Sparafucile in Rigoletto, Angelotti in Tosca, Wurm in Luisa Miller, Billy Jackrabbit in Fanciulla del west, Nicola in Fedora. With the Florida Grand Opera, he sang the Stabat Matter of Rossini. He also sang in Fort Pierce in several productions with the Treasure Coast Opera. The Opera of St. Petersburg directed by Maestro Mark Sforzini invited Diego to sing on many occasions main roles from the Italian repertoire. Diego also sang with the Naples opera in a production of Barber of Seville.
The Wichita Grand Opera invited Diego to sing the role of Gesler in the production of William Tell by Rossini, joining a superb cast including the renowned baritone Lucas Meachen. In Europe Diego sang in Austria the world premiere of composer Mak ka Lok at Murzzushlag, and an aria recital in Graz, with the Graz Symphony Orchestra conducted by Maestro Peter Schmelzer. With the same conductor he made a live recording with the Moravian Philharmonic Orchestra in Olomouc. The Mario del Monaco Foundation invited Diego to sing a recital with other singers In Germany. Also at the Festival Estate Regina, Montecatini 2008, he sang three performances of the opera Tosca, as Angelotti. Diego continued his voice studies with the singer and Maestro Raffaele Cardone.
With the Miami Lyric Opera, he sang: Zuniga, Carmen, 2009; The Bonze, Madame Butterfly, 2008; Raimondo, Lucia di Lammermoor, 2008; Doctor Grenville, La Traviata, 2008 & 2009; Sparafucile, Rigoletto, 2007 and 2011; Gala Concert, 2006 & 2007; Colline, La Boheme, 2006, 2007 & 2010. Pascual, from the opera Marina 2009 & 2011 and most recently the role of Angelotti from Tosca, Sparafucile, Rigoletto, and most recently Diego sang the role of Raimondo, from Lucia di Lammermoor, Zio Bonzo from Madame Butterfly, and Zuniga on March 2013 with the same company. He also participated at the Gala Verdi performed in Miami at the Colony Theater. Most recently Diego sang the role of Sparafucile from Rigoletto, and the role of Pascual in the Spanish opera Marina in Miami; and will be singing in the same city the role of Bonzo in Madame Butterfly.