Diana Bucur – soprano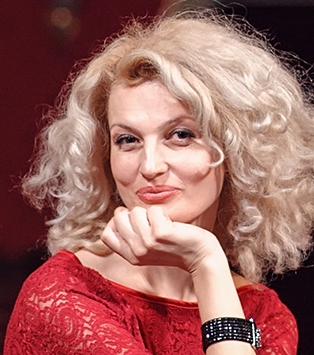 We are proud to introduce a singer with a voice of unique timber, superb dramatic sensitivity, devotion to the art of opera – while also endowed with physical beauty and a remarkable stage presence.
Soprano Diana Bucur hails from Jassy, a city of great musical and cultural tradition in Rumania.
She was trained at the State Conservatory Kishinow and the 'George Enescu' University of Arts Iasi, thus shaping her artistic personality under the influence of two important schools of singing – Russian and Rumanian.
In 2012 she became soloist of the National Opera Iasi, having been invited as guest soloist for Giannetta (L'elisir d'amore), Donna Elvira (Don Giovanni) and Contessa (Le nozze di Figaro). Her official debut role turned out to be Musetta in La Boheme. The same year she made her operetta debut in Wiener Blut of J. Strauss Jr.
Her success with the company continued with perhaps the most important of all operetta female roles, Rosalinde in Die Fledermaus and with Adina in L'elisir d'amore.
The 2015/16 season was a decisive period in her young career, establishing her as a versatile and complex artist. She made her debut with four very important roles of the operatic and operetta repertoire: Violetta in Verdi's La Traviata, maybe the most popular, but also most difficult and therefore rewarding soprano roles. It was a triumph and even the most skeptical critics fell in love with the beautiful, fragile and generous heroine embodied by Diana Bucur.
Then followed Fiordiligi in Cosi fan tutte, Hanna Glawari in Die lustige Witwe and Leila in Les Pecheurs des Perles. In November 2015 she took part in a tour of Les Pecheurs des Perles with the National Opera Iasi throughout Germany and Switzerland. Her sensitive Leila received both audience and critical acclaim.
In 2017, soprano Bucur will be expanding her career potential throughout Europe with carefully-planned audition tours and smartly placed recitals as her repertoire and experience continue to develop.