Cristina Fontanelli – vocalist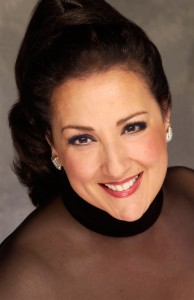 Cristina Fontanelli's accomplishments include hosting for PBS-TV's Andrea Bocelli Live in Central Park (also starring Celine Dion, David Foster and Tony Bennett), for the Vienna Boys Choir and Il Volo Takes Flight PBS-TV specials. She has sung title roles with the Palm Beach, Hong Kong, Cairo, NY Grand and NJ State Operas and the Opera of the Hamptons. Her operatic repertoire includes Mimi, Musetta, Violetta, Giorgetta (Il Tabarro), Madame Butterfly and Tosca. Cristina sings and entertains in 9 languages and is a proud member of the top performing unions (SAG/AFTRA & EQUITY) She has been cited as one of the American Academy of Dramatic Arts most notable alumni (along with Robert Redford, Danny DeVito, Edward G. Robinson and Anne Hathaway) and was signed by platinum-record producer Sandy Linzer for his label Meadowlands Records to record "Cristina Fontanelli Sings Great Italian Favorites". Her numerous awards include the American Opera Auditions and the Licia Albanese Puccini and Koussevitsky Foundations. She created, produces and stars in the NYC annual favorite "Christmas in Italy® " now in it's 14th season.
Cristina has toured as a solo concert artist worldwide and as soloist with orchestras including the Boston Pops and the St Louis Symphony performing in major concert halls throughout the U.S. including the Lincoln and Kennedy Centers and international concert halls throughout Europe, Canada, the Far East, the Middle East, Singapore, Puerto Rico, and Santa Domingo. A listing of some of the popular giants she has appeared with include Tony Bennett and Joel Grey. Cristina has completed three world-tours with the Mantovani Orchestra. She was invited by the Italian government to represent the U.S. in Bari Italy as a distinguished artist of Pugliese descent at the European Music Conference MEDIMEX and to sing in her grandparent's hometown of Molfetta, where Ricardo Muti spent his childhood years. Cristina's beautiful soprano voice has taken her to the White House as part of President Clinton's Christmas celebration and she was invited to open the ceremonies at the Stars and Stripes Presidential Inaugural Ball for President George W Bush. This following her Lifetime Achievement Award in the Arts from the Order Sons of Italy in America (previous honoree Luciano Pavarotti).
She appears regularly at VIP events such as at the Waldorf-Astoria for the Columbus Citizens Foundation, honoring Franco Zeffirelli. She has appeared on CBS-TV in interview/performance/co-hosting roles and opposite TV-star Kevin James in their 2016 season CBS-TV promo and filmed 2 guest appearances on TRU-TV's "Billy on the Street". Cristina is the voice of Domino's Pizza on their national radio commercial and the voice of Nonna on PBS-TV Chef Lidia Bastianich's Christmas special. She sang "Happy Birthday" to Mickey Rooney at NY's top nightclub, Feinsteins at the Regency (Tony Bennett, Donald Trump, Nathan Lane, Regis Philbin in attendance) and is included in the 2015 book "The Life and Times of Mickey Rooney" published by Simon and Schuster. Cristina has been a guest on Bloomberg, Sirius and WQXR radio and continues her charitable/educational work thru producing family-friendly entertainment thru Fontanelli Productions LLC.